Suffolk Coastal District Council have reviewed their plans for taking further action on the rat problem in the Sea Road area of Felixstowe.
Having looked into the issue in more detail and taken expert advice, they have been informed that poisoning the rats, by inserting gas pellets into the nests, is not a practical or safe option. The proximity of the treatment to human activity would create a health risk to people and their pets in the area.
As such, colleagues at Suffolk Coastal Norse are implementing a series of changes in the short-term. They will be carrying out a late night sweep of the area, emptying the bins and cleaning the Promenade, between 8pm and 10pm each day –to ensure there is no food waste left in the bins, or on the Promenade, overnight to attract rats and seagulls.
Three extra, large lidded wheeled bins have also been placed in the area, to try to reduce the ability for seagulls and rats to access food waste in the bins in the area.
They will also be running a poster campaign in the area to actively encourage people not to discard their food waste , and to make sure they treat food waste like other litter and put it in the bins provided. These posters will emphasise the need for people to 'Respect our Resort' by not dropping food waste that attracts vermin. This will be supported by a social media campaign.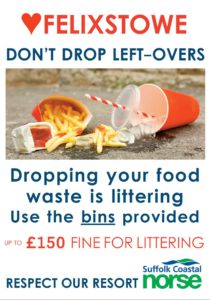 These measures are in addition to those already carried out to address this issue, including extensive work to remove much of the low level vegetation along the Sea Road Gardens(near Manning's fish and chip outlets) which provides cover for rats to nest in.
Norse has also placed 20 bait trap boxes along the Sea Road area, which are checked regularly by the pest control officer. These pest control efforts are being increased as a result of the recent rat sightings.
SCDC have also bolstered street cleaning efforts, in response to the thousands of visitors who have flocked to Felixstowe during the recent hot weather. Norse employs a team of street cleansing operatives in Felixstowe, which include both pedestrian sweepers and vehicle-based cleaners.
The cleansing services are provided seven days a week, with each team patrolling an area and litter picking around the Sea Road Garden, Felixstowe Seafront Gardens and Town centre. There are continuous litter picks carried out daily along the Felixstowe sea front, with staff starting from 6am onwards, with some litter bins being emptied 2-3 times per day (as required).
The larger wheeled bins for litter on the promenade are emptied during the early morning each day. These are sealed bins which do not contribute to the rodent problem.
We continue to monitor the situation, while we look at longer-term solutions, and are also liaising with commercial pest control experts to see if a more resilient solution can be found.
However, Suffolk Coastal District Council is also appealing for the public's support in addressing this issue, by cutting off the rats' food supply. The issue is exacerbated by some people discarding their food waste in the gardens, despite there being ample bins provided and additional anti-littering signage in the area. This food waste attracts rats and also makes the rat traps less effective.
While most people are very good at using the bins we provide, there is a minority of local people and tourists who need to be more responsible. The message to them is clear – 'Respect our resort. Please put your food waste in the bins provided."
SCDC continue to work to be responsive to these issues. Anyone wanting to report an issue with rats or litter bin collections should contact, Suffolk Coastal Norse on 01394 444000 or email: scs@ncsgrp.co.uk
Fighting the Litter – Factfile:
Staff from Suffolk Coastal Norse are out in Felixstowe, cleaning and collecting rubbish along the Promenade, seafront and Seafront Gardens.
This year's sparkling summer weather has led to a bumper tourist season, but thousands of people flocking to the seaside has also created a challenge for those responsible for cleaning up the rubbish.
Suffolk Coastal Norse has drafted in extra staff and here are some of the key statistics from the on-going fight to keep Felixstowe clean:
There are 60 x 360L wheeled bins along the seafront, as well as 50 litter bins
Suffolk Coastal Norse collects up to 350 sacks of litter a day (or 2,450 sacks a week)
A small Refuse Collection Vehicle is used to access the bins, with collections taking place daily, with a caged vehicle colleting all rubbish from litter bins, 7 days a week
They have also increased the amount of bins near the shops and put out an additional 12 x 240L wheeled bins
There are 5 Street Cleaners, with additional staff available if needed, to cover 7 days a week. Starting at 6am and the last run is now be between 8-10pm, clearing the litter bins near all the takeaway shops and checking seafront bins.
An Account Manager has been based in Felixstowe since 2017, who covers the resort for all Norse services, who has the ability to react to changing situations and utilise staff from different sections to deal with anything that needs doing in Felixstowe
To address the rat issue, there are 20 bait boxes currently out, which are monitored on a regular basis by Waste Management Officers
In an effort to discourage rats, extensive vegetation in Sea Road Gardens was removed last year, and more work was carried out early this year by the grounds section. There will be more work done here at the end of the summer season.