Felixstowe Town Council was the first of 424 parish/town councils in Suffolk to be rated 'Quality Gold'; the highest award level in the Local Councils Award Scheme.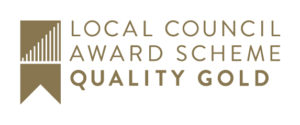 The Town Council received the prestigious award for demonstrating best practice in governance, community engagement and business planning. Notably, the Council is recognised for going beyond its legal obligations and continuously seeking opportunities to improve and develop further.
At the time of achieving the Gold award, Felixstowe joined a select club consisting fewer than 40 from a total of 9,000 town and parish councils in England.
The Local Council Award Scheme exists to celebrate the successes of the very best local councils, and to provide a framework to support all local councils to improve and develop to meet their full potential. All local councils want to serve their local communities and make a real difference to the lives of the people that live there. The scheme offers councils the opportunity to show that they meet the standards set by the sector, assessed by their peers, and to put in place the conditions for continued improvement.
The Award Scheme has been designed to both provide the tools and encouragement to those councils at the beginning of their improvement journeys, as well as promoting and recognising councils that are at the cutting edge of the sector. It is only through the sector working together, to share best practice, drive up standards and supporting those who are committed to improving their offer to their communities that individual councils and the sector as a whole will reach its full potential.
Full details about the scheme are available on the National Association of Local Councils website here: www.nalc.gov.uk/our-work/improvement-and-development/local-council-award-scheme
Councils can apply for an award at one of three levels.
The Foundation Award demonstrates that a council meets the minimum requirements for operating lawfully and according to standard practice.
The Quality Award demonstrates that a council achieves good practice in governance, community engagement and council improvement.
The Quality Gold Award demonstrates that a council is at the forefront of best practice and achieves excellence in governance, community leadership and council development.