Civic Awards
Special contributions to the community made by individuals, young people and organisations are recognised by the Town Council through its annual Civic Awards scheme.
The Civic Awards are an opportunity to celebrate those in our community who have voluntarily gone the extra mile to support others and make a difference to life in Felixstowe…
Tell us who your community heroes have been over the past year and nominate them for one of the following Awards using our Nomination form here
Mayor's Award: Presented to up to 5 local people for their personal contribution to the community.
HMS Ganges Youth Trophy: Presented to a local young person (aged 21 or younger) or organisation supporting young people in Felixstowe.
The Community Award: Presented to recognise the contribution to the community by a local organisation.
Complete entries should be emailed to Sue Faversham, Civic Events Officer, sue.faversham@felixstowe.gov.uk or returned to Felixstowe Town Council, Town Hall, Felixstowe IP11 2AG by the closing date of 31st March 2023.
In 2022, the Jubilee year, the Town Council welcomed nominations for those deserving of special recognition for what they have given to the community in a voluntary capacity at any time over the past 70 years.
The Mayor's Awards Winners for 2022 were:
Richard Holland – Nominated by Alan Holland
For his role in running 'THE HUT' on Felixstowe seafront, the Day Centre and for his involvement in the Travel Association and the Twinning Association.
Susan Pascall – Nominated by Steven Crocker
For her voluntary work at the local RSPCA shop and for offering voluntary support to the NHS.
Amanda Folley – Nominated by Ginny Idehen
For her role in the formation of Shine a Light on Walton.
Lisa Williams – Nominated by Steve Williams
For her role in the coordination of Stennetts Community café.
Maryann Byrne – Nominated by Sophia Byrne
For her involvement throughout the community, including her voluntary work at The Compass, Wavemakers, her service at a pop-up food bank and her role in Felixstowe Helping Hands.
Special Jubilee Jewel of Felixstowe Award
John Cresswell
For founding the Felixstowe Volunteer Coast Patrol Rescue Service some 26 years ago and helming the organisation since until his retirement in January this year.
HMS Ganges Award
Alfie Lack – Nominated by Tracey Lack
For his role as a staff flight Sergeant in the Felixstowe Air Cadets and in office as Lord lieutenant cadet, representing Suffolk at various events on behalf of H.M. Queen Elizabeth.
The Community Award
Clive Garnham and The Grove Medical Centre – Nominated by Kate Bloomfield
For the outstanding effort of both staff and volunteers at The Grove Medical Centre in administering the COVID-19 vaccination rollout.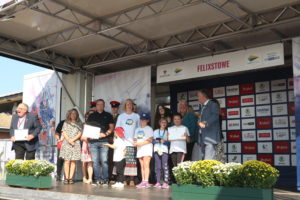 The Town Council has been making Civic Awards for many years. Please see here for a list of previous Awards Winners: Award winners as from 2002