Do you know a hero within your local community? Felixstowe Town Council is excited to request nominations for our Mayor of Felixstowe Civic Awards. Special contributions to the community made by individuals, young people and organisations are recognised by the Town Council through its annual Civic Awards scheme.
The pandemic has been an unprecedented challenge for us all. We want to hear, from you, about those individuals in our community that have done so much to help us through these unique times. Your nominations will help us to recognise those efforts and to celebrate the pillars of the Felixstowe community.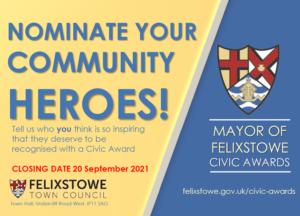 Due to coronavirus restrictions the Awards had to be postponed from its traditional date in May. However, we are delighted to announce that we will be holding the Awards presentation at part of the FelixFest event on Saturday 9th October. Awards will be presented in the following categories:
The Mayor's Award: will be presented to up to 5 people for their personal contribution to the community.
The HMS Ganges Youth Trophy: will be presented to a local person aged 21 years or younger, or an organisation supporting local young people in Felixstowe.
The Community Organisation Award: will be presented to recognise contribution to the community by a local organisation.
If you can think of someone deserving of special recognition, don't delay! The deadline to send your nominations is 20th September 2021.
Complete entries should be emailed to Sue Faversham, Civic Events Officer, sue.faversham@felixstowe.gov.uk or returned to Felixstowe Town Council, Town Hall, Felixstowe IP11 2AG.
For more information about the Mayor's Civic Awards, click here.