FELIXSTOWE TOWN COUNCIL CIVIC AWARDS 2022
Felixstowe Town Council is delighted to announce this year's Civic Awards winners, presented by the Mayor of Felixstowe for 2021-22, Cllr Mark Jepson, at the Annual Town Meeting held at The Orwell Hotel on Wednesday 11th May.
THE WINNERS WERE:
Mayors Awards
Richard Holland
For his role in running 'THE HUT' on Felixstowe seafront, the Senior Citizens' Day Centre and for his involvement in Felixstowe Travelwatch and the Felixstowe-Wesel Twinning Association.
Susan Pascall
For her voluntary work at the local RSPCA shop and for offering voluntary support to the NHS. The Award was collected on behalf of Susan, by her nominator, Steve Crocker.
For her role in the formation of Shine a Light on Walton.
For her role in the coordination of Stennetts Community café.
For her involvement throughout the community, including her voluntary work at The Compass, Wavemakers, her service at a pop-up food bank and her role in Felixstowe Helping Hands.
Alfie Lack
For his role as a staff flight Sergeant in the Felixstowe Air Cadets and in office as Lord lieutenant cadet, representing Suffolk at various events on behalf of H.M. Queen Elizabeth.
Clive Garnham and The Grove Medical Centre
For the outstanding effort of both staff and volunteers at The Grove Medical Centre in administering the COVID-19 vaccination rollout.
At the event the Mayor also announced that a total of £15,000. had been raised in support of his two chosen charities: the Felixstowe Carnival Association and Citizens' Advice Felixstowe. Each charity was presented with a cheque for £7,500.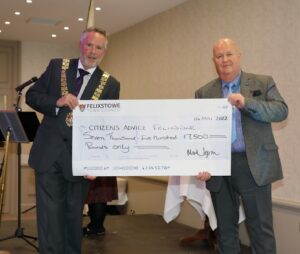 A special 'Jubilee Jewel of Felixstowe' Award was presented to John Cresswell for founding the Felixstowe Volunteer Coast Patrol Rescue Service some 26 years ago and helming the organisation since until his retirement in January this year.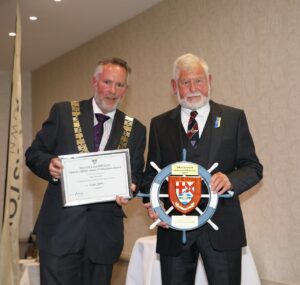 Cllr Mark Jepson said: "The annual Mayor's Civic Awards provide an invaluable opportunity to recognise and reward those members of the Felixstowe community who regularly go above and beyond to help others. Felixstowe is a town underpinned by a fierce community spirit, and it is this essential quality that the Civic Awards aims to highlight. As we receive so many fantastic nominations, choosing the recipients is never an easy process, but I am always uplifted by the diverse range of nominations."
If you would like to nominate a Felixstowe resident for outstanding community service to the town of Felixstowe details of the Civic Awards for 2023 will be published on the Town Council website in due course.