The Mayor of Felixstowe, Cllr Nick Barber in association with Fred Olsen Travel Agents have organised a 4 day trip to visit our wonderful twin town of Wesel in Germany on 28 June 2018 for 4 nights.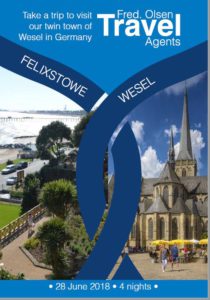 Felixstowe has been twinned with Wesel, Germany for 44 years. From the beginning, the benefit of the Partnership was to be for all residents, and this aim has been well achieved with hundreds of exchange visits taking place. This long relationship has resulted in many friendships. Felixstowe Council has always been proud of this valued Partnership, which is run by the Felixstowe Wesel Association. Wesel, town, North Rhine-Westphalia Land (state), northwestern Germany. It lies along the Rhine and Lippe rivers and the Lippe-Seiten Canal, northwest of the Ruhr. Whilst during the second World War almost 97% of the buildings were destroyed (some medieval buildings still survive), Wesel was rebuilt along modern lines. There are large harbour installations and many industrial plants that manufacture such
products as glass, machinery, transport equipment, chemicals, and ceramics.
The trip costs from just £379pp and includes:
• Coach Transfer to Harwich
• Ferry crossing to Hook of Holland
• Coach transport to Wesel (approx 2.5 hours)
• 4 nights accommodation at Hotel Kaiserhof B&B basis
• Coach transport to Hook of Holland for return ferry
• Coach Transfer to Felixstowe
For more information click the image above or contact Fred Olsen Travel on 01394 270456.
Book early to avoid disappointment !