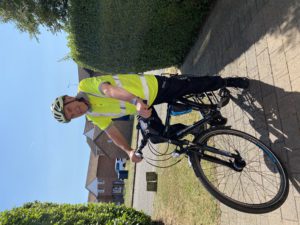 New Year is a time to set new goals and in 2021 Suffolk County Council Chairman, Graham Newman, is calling on the public to start the New Year by joining him in a virtual cycling mission to raise funds for St Elizabeth Hospice. From 1st February until 31st March, Councillor Newman will complete a 272 km virtual bike ride as part of the Chairman of Suffolk County Council's Winter Cycling Mission in aid of the hospice, which is his chosen charity for 2021. The distance is the equivalent of cycling the combined distance of Ipswich to Felixstowe and to all St Elizabeth Hospice premises and shops across Suffolk, in locations such as Beccles, Southwold, Stowmarket and Ipswich.
Councillor Graham Newman, Chairman of Suffolk County Council said: "I'm delighted to be supporting St Elizabeth Hospice in my term of office and I'm hoping the public will be inspired to join me on this cycling mission and raise some much-needed funds for the charity.
"Being active, particularly in the current climate, is so important for not only our physical health but also our mental health and cycling is a great way to get about for travel, to work, college or school – as well as for exercise and enjoying the great outdoors, whilst completing the mission"
With registration opening on 2nd January, all are welcome to take part and can complete their rides across as many days as they wish, between 1st February and 31st March, using a static bike, electric bike or by getting outdoors for a ride before uploading their activities to the mission platform and tracking their distances along the route. Entry costs between a £5-£20 donation, with all funds raised going towards the independent Suffolk charity which provides free services to improve life for people living with a progressive or life-limiting illness throughout Suffolk, including Great Yarmouth and Waveney.
Last year, St Elizabeth Hospice cared for more than 3,000 Suffolk patients and their families at a cost of £12.9m, of which 75% was raised by the community through its retail shops and fundraising activities.
Joanne Rodger, Events and Challenges Manager at St Elizabeth Hospice added: "We are so pleased Suffolk County Council Chairman Graham Newman has chosen to support us this year and are very grateful for his efforts in organising and taking part in this fantastic cycling challenge.
"As an independent charity we rely on the generosity of community support for our fundraising to ensure we can provide our much needed service and care provision to patients and their families, so activities such as this are very important to us.
"We wish the best of luck to all who take part and encourage everyone to get behind them and support their fundraising."
All participants in the ride will receive an e-certificate signed by Chairman of Suffolk County Council, Graham Newman, as thanks for their efforts. As well as this, they will be entered into a draw to win a pair of VIP tickets to the 2021 Women's Tour race finish in Felixstowe on 12th June 2021.
To join Councillor Newman and take on your own cycling mission register by visiting www.keepmovingsuffolk.com/st-elizabeth-cycling-challenge/.
For more information email mostactivecounty@gmail.com and to share images of you completing your challenge use the hashtags #KeepMovingSuffolk and #StElizabethHospice across all social media platforms.
To find out more information about St Elizabeth Hospice call 01473 727776 or visit www.stelizabethhospice.org.uk.