EDF Energy's third stage of public consultation on the proposals for a new nuclear power station at Sizewell runs from 4 January to 29 March 2019.
To find out more about the project come along to the public exhibition between 11am and 5pm on Tuesday 22 January 2019 at Trimley Sports and Social Club, High Road, Trimley St Martin, IP11 0RJ
Further details are available here: https://www.edfenergy.com/energy/nuclear-new-build-projects/sizewell-c/proposals/stage-3
Please see below from EDF Energy for details of the Sizewell C Public Consultation
Sizewell C Public Consultation Begins

Our third stage of public consultation on the proposals for a new nuclear power station at Sizewell begins on 4 January 2019. The feedback we receive plays an important part in the development of our proposals, so we encourage you to play an active role in the consultation.
See the end of this newsletter for details of our public exhibitions. Responses to our proposals, briefly summarised in this newsletter, need to be received by 29 March 2019.

Our latest proposals have been informed by:
feedback from our previous two stages of consultation;
on-going engagement with local communities and stakeholders;
further technical work and environmental studies; and
lessons from Hinkley Point C, the new nuclear power station we are building in Somerset, which is on track to generate electricity from 2025.
What is Sizewell C?

Sizewell C is a proposed new nuclear power station that would be built to the north of Sizewell B on the Suffolk Coast.
It would have two reactors, known as UK EPRs(TM), capable of generating enough electricity to supply around six million homes.
Sizewell C would take 10-12 years to build.
At the peak of construction, it would provide around 5,600 jobs on-site.
Some temporary associated developments will be needed in the local area during construction of Sizewell C, such as park and ride sites, transport infrastructure and an accommodation campus.
Once operational, the new power station would support around 900 permanent jobs.
Sizewell C would generate electricity for 60 years. It would make an important contribution to the UK's future needs for low carbon, secure and affordable electricity.
It would create significant business, training and employment opportunities locally, regionally and throughout the UK.
Sizewell C Proposals

Sizewell C will have two reactors, known as UK EPRs(TM), capable of generating enough electricity to supply approximately six million homes in Britain.
The design of the UK EPRs(TM) is based on pressurised water reactor (PWR) technology that has been used successfully and safely around the world for many years, currently operating in over 80% of nuclear power stations worldwide.

In developing and designing our proposals, we have sought opportunities to limit the impact of the construction of Sizewell C on local communities, the environment and the local highway network wherever possible.

The key elements of our approach are to:

• use either a rail-led or road-led strategy for moving materials on and off site;
• build an on-site accommodation campus to reduce the number of workforce journeys;
• provide park and ride facilities at key locations on the A12 for workers to travel by bus to the main construction site;
• provide direct bus services to the site from Leiston, Saxmundham station, Lowestoft and Ipswich;
• operate working patterns that minimise workers travelling at peak times; and
• provide road improvements where necessary to mitigate the impact of construction traffic.
Local Opportunities

Sizewell C would bring significant economic and employment opportunities, supporting the security of the UK's economic future and also producing a long-term boost for the local economy.
Construction of Sizewell C would create approximately 25,000 roles on the main development site. There would also be a need for a significant workforce in non- construction roles, including in the hospitality, food production, and business support sectors. Once operational, there would be a long-term legacy of 900 permanent jobs and a regular short-term workforce of around an additional 1,000 people during refuelling and maintenance outages.

We are committed to ensuring local people can access the jobs and benefits Sizewell C will bring.
Environmental Considerations

In addition to the economic and employment benefits Sizewell C would bring, the environmental sensitivities of the location are key considerations for us, including in relation to construction and temporary development.
We have continued to undertake environmental surveys and identify likely impacts to help inform our proposals.

Where impacts are likely to be significant, we have embedded mitigation into our design, or are proposing separate measures to reduce impacts. See the Stage 3 Consultation Summary Document for the latest information.
Main Development Site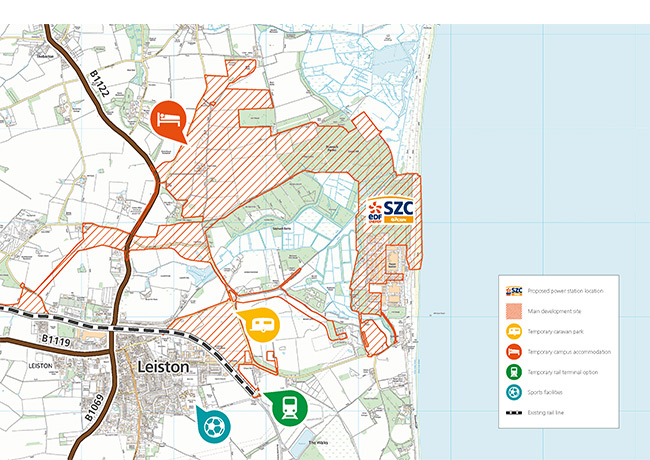 The Sizewell C site platform: covers 32 hectares. The station would generate 3.2GW, enough power for six million homes.
SSSI crossing: there are watercourses that make up a Site of Special Scientific Interest (SSSI) which would need to be crossed to access the station platform from a new access road. We are proposing a causeway over a culvert for the crossing.
Sea defence: designs for an effective sea defence and landscape feature have been progressed.
Training building: a training building with car parking facilities for workers is required. It is proposed that this will be located at Goose Hill, north of the main platform.
Electrical connection: we are now proposing to connect to the Grid via an overhead line within the Sizewell C site as further work has shown significant safety and programme risks associated with the underground cables proposal.
Borrow pits: we are proposing to use borrow pits to source construction material for use in building Sizewell C. The borrow pits would be backfilled with peat and clay excavated from the foundation area of the power station. We are now considering – on a precautionary basis – retaining the remaining three elds from the Stage 2 options for borrow pits.
Campus: a 2,400-bed accommodation campus would be located within the main development site to the east of Eastbridge Road. Only three and four (rather than up to five) storey accommodation buildings are proposed. Off-site sports facilities (in Leiston) are proposed to be shared with the community during construction and left as a legacy afterwards.
Caravans: we are proposing to provide a 400-pitch caravan site on land east of Eastland Industrial Estate (LEEIE). They will be available in the early years before the campus is established and retained throughout construction as an option for workers.
Electrical substation: a new substation, located east of Old Abbey Farm, is required to complete the electrical connection between the Leiston substation at Sizewell Wents, the Emergency Equipment Store and the ancillary buildings.
Emergency response equipment store and backup generator: an equipment store to enable rapid response to an emergency event is proposed, with a Combined Heat and Power plant for the accommodation campus retained for backup power during operation.
There are two alternative strategies – rail-led or road-led – proposed for the movement of materials:
Rail-led: direct access into the main site for five freight trains a day using an extended temporary railway line into the site from the Saxmundham – Leiston branch line (the green route), and a road bypass of Theberton; or
Road-led: a new Sizewell link road from the A12 to the B1122 east of Theberton, and a freight management facility to the east of Ipswich, along with two trains a day to Sizewell Halt or a new rail siding throughout construction.
Rail

Our proposal to use freight trains for construction deliveries would require some improvements to existing rail lines.
We are proposing use of the existing terminal known as Sizewell Halt or construction of a new rail siding (on land east of Eastland Industrial Estate (LEEIE)) on the same Saxmundham – Leiston branch line:

Option 1: reconfiguration of the existing Sizewell Halt rail terminal on the branch line to accommodate longer trains and an overhead conveyor system to move material over King George's Avenue into LEEIE.

Option 2: a new rail siding adjacent to the existing branch line in the LEEIE.

The Saxmundham – Leiston branch line would need upgrades to nine level crossings (between the Saxmundham junction and Sizewell Halt) under both the rail-led and road-led strategies.

The East Suffolk line would need significant improvements under the rail-led strategy, the closure of 12 level crossings and diversion of public rights of way, along with the upgrade of 33 other level crossings.
Accommodation

Around a third of the peak construction workforce would be home-based.
Other workers would seek accommodation in the private rented and tourist sectors, as well as in our proposed campus and caravan accommodation.

Our proposed temporary worker accommodation – both the campus and caravan site – would play an important role in helping to:
reduce the amount of traffic generated by the construction workforce on local roads; and
relieve pressure on tourist accommodation and the private rented market from Sizewell C workers.
We are also proposing to establish a Housing Fund to enable local authorities to take early measures to mitigate against potential impacts of Sizewell C on the local housing market.
We are developing systems to enable local landlords, tourism businesses and residents to register accommodation available for workers and to guide our workers towards it.
A12 – two village bypass

At previous stages of consultation we proposed options to mitigate the impact of construction traffic on the A12 going through Farnham.
We are now proposing a bypass of Farnham and Stratford St Andrew (a two-village bypass) – with key design changes aimed at reducing environmental impacts – to significantly reduce the traffic passing through the Farnham bend on the A12.

The single carriageway bypass would leave the A12 to the west of Stratford St Andrew via a new roundabout near Parkgate Farm and re-join the A12 with a second roundabout to the east of Farnham at the A12/A1094 Friday Street junction.
A12/B1122 junction and other road improvements

The junction between the A12 and B1122 would require improvement.
Our proposal to improve the junction of the B1122 with the A12 at Yoxford is a roundabout.

The roundabout would replace the existing priority junction and is considered to be safer and more efficient than signalising the existing A12/B1122 junction.

Other road improvements at key locations to improve safety, visibility, and mitigate the impact of construction traffic are also proposed.
Park and Ride

Two park and ride facilities are proposed on the A12 to help reduce the amount of additional traffic generated by the movement of the construction workforce and pressure on local roads.
Our traffic modelling now shows a need for more car parking spaces than previously proposed; however the land required for the park and ride sites remains the same as shown at Stage 2.
Northern park and ride: a park and ride site is proposed at Darsham for workers travelling from the north. Since the Stage 2 consultation, we have changed the proposed site entrance and revised the landscaping proposals.
Southern park and ride: a site in the parish of Hacheston – the Wickham Market site – has been identified for workers travelling from the south.
We are proposing two options for mitigation of potential delays on the B1078 between Border Cot Lane and River Deben bridge that may occur as a result of the southern park and ride:
Option 1: temporary removal – and provision elsewhere, to be identified – of on-street parking spaces on the B1078 between Border Cot Lane and the River Deben bridge to create a continuous two-way road that would minimise delays. On-street parking would be reinstated when the park and ride is no longer needed.
Option 2: improvements to Valley Road and Easton Road to allow Sizewell C traffic from the B1078 to be diverted north of Wickham Market via Valley Road, Easton Road and the B1116 to reduce the potential for congestion on the B1078. This would include realigning Valley Road, formalising junctions, improving road markings, resurfacing and drainage improvements, and extending Easton Road to move the B1116 junction north for improved visibility.
Rail-led Strategy

A rail-led strategy would provide direct access into the main site for five trains a day along a proposed new rail route off the Saxmundham – Leiston branch line, together with a bypass of Theberton, relieving the B1122 through Theberton of peak construction traffic and substantially reducing impacts associated with Sizewell C.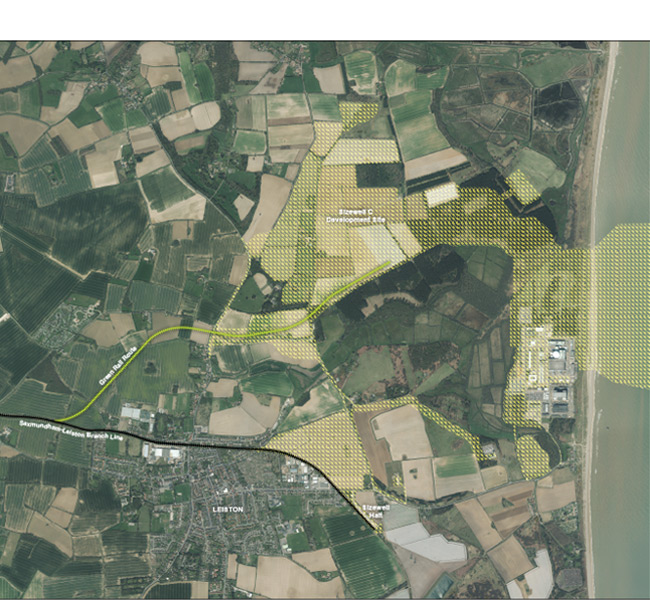 We do not yet know with certainty whether the rail-led strategy is fully feasible or could be delivered on time. We will need to continue our work with Network Rail to understand risks and potential implications on our construction programme.

Level crossings

The rail-led strategy would require closure and diversion of 12 level crossings along with upgrades for 33 others. The crossings that would be closed are:
Westerfield Footpath
Lacy's Footpath
Stennetts 1
Stennetts 2
Gamekeepers
Martlesham
Melton Bromswell
Pettistree
Orchard
Wickham Market
Blaxhall 2
Saxmundham
We are considering two options where the new rail route would cross Buckleswood Road:
Option 1: temporary closure of Buckleswood Road to vehicles, with a new footbridge to provide a pedestrian connection; or
Option 2: a new level crossing on Buckleswood Road.
Road-led Strategy

The road-led strategy includes a new Sizewell link road from the A12 to the B1122 that would substanially reduce Sizewell C traffic volumes passing through Yoxford, Middleton Moor and Theberton.
It also includes a freight management facility near Ipswich, (to serve as a holding area for HGV's, helping regulate timing and flow of vehicles to the main development site), along with two trains a day (to Sizewell Halt or a new rail sliding on LEEIE) throughout construction.
Freight Management Facility Options

We are considering two sites for the freight management facility, explained below.
Option 1, Seven Hills: a site of approximately 9.9 hectares close to the A12/A14 Seven Hills Junction which would be accessed off the Old Felixstowe Road.

Option 2, Innocence Farm: a site of approximately 9 hectares at Innocence Farm, located immediately to the north of the A14.
Public Exhibitions

We hope you can join us at one of our exhibitions where you can find out more about our proposals, speak to members of our project team and share your feedback.
SZB Consultation: from 4 January to 1 February 2019, EDF Energy is consulting on proposals to relocate some Sizewell B facilities. To participate in that consultation, please see www.rlfsizewellb.co.uk for more information.
Next Steps

Following Stage 3 we will consider all responses and use them – along with our technical and environmental assessments, continuing engagement with statutory authorities and others, and lessons from Hinkley Point C – to further inform the development of our plans. We will then prepare and submit our application for development consent for Sizewell C to the Planning Inspectorate.

The Planning Inspectorate will process and examine the application, including encouraging the submission of views from interested parties, before making a recommendation to the Secretary of State, who will make the final decision on whether or not to grant consent.

Please visit the project website for all Stage 3 documentation, and more details on how to respond.
Call us: Freephone 0800 197 6102*
Email us: info@sizewellc.co.uk
*Calls on 0800 numbers are normally free when you call from a landline but charges may vary if you use a mobile.