Felixstowe is getting ship-shape for the upcoming summer season.
Visitors to the town will have noticed two beach huts on the seafront being transformed into colourful new 'Visit Felixstowe' Tourist Information Points.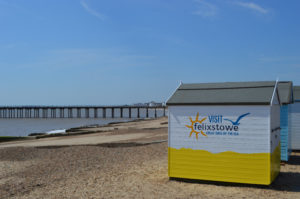 Complementing the tourism services on offer at the Felixstowe Library, the beach huts will provide an important presence on the seafront with useful tourist-related leaflets, information and advice for both local residents and holidaymakers.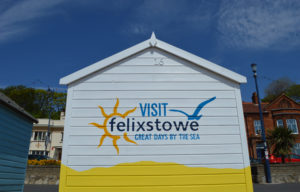 Painted seaside-style and proudly supporting the Visit Felixstowe brand, there are two huts – one at each end of the main stretch of the promenade.
The huts, opposite the Town Hall and in the gardens in front of Manning's Amusements (off Sea Road), will be open seven days a week until the end of September, so passing visitors can pick up information about what is going on in Felixstowe.
At this stage, they will not be staffed during the week, but local volunteers will be present at the weekends to provide assistance and extra advice. Felixstowe Forward is currently working to recruit volunteers to fulfil this important role.
The first hut near the Town Hall will be officially opened at 11am on Wednesday, 25 May, by Suffolk Coastal District Councils Cabinet Member for Economic Development and Coastal Management, Cllr Andy Smith, whose portfolio includes Tourism.
There will be tea and cake and a few seaside-inspired surprises at the official opening – with the second beach hut (at Manning's) due to open a week or so later.
Cllr Smith said: "We listened to the businesses and people of Felixstowe, as well as our visitors, and have recognised the need to provide tourist information on the seafront, especially during the key summer season."
"The beach huts will work alongside the tourism services offered at the Library, bolstering our service and making tourist information easily accessible on the seafront."
"Importantly, the service offered through the beach huts and library will complement the excellent work being done by the Suffolk Coast DMO (Destination Management Organisation) to promote this area as a destination of choice for visitors."
"We are aiming to make the beach huts a quirky and fun addition to our vibrant seafront area of the town. We hope everyone will pay them a visit to discover great days by the sea in Felixstowe".
The beach huts are just part of a series of new 'visitor' facilities and information:
The seafront flagpoles have recently been refurbished and are now supporting the Visit Felixstowe flag;
Whilst, early this year, a new Visit Felixstowe Map Pad was launched. The pad which provides a useful map and key tourist information has been hugely popular and well-received by both local businesses and visitors. A second version of the map for 2017 is already been planned.
If you would like to attend the forthcoming launch or are interested in becoming one of our volunteers manning the beach huts, please contact Clare Baker, Felixstowe Forward Change Co-ordinator on 01394 444884 or email clare.baker@eastsuffolk.gov.uk