Councillor Mark Jepson was elected as the Mayor of Felixstowe for 2020-21 at the Annual Meeting of Felixstowe Town Council held on 20th May. On the same evening Councillor Sharon Harkin was appointed as the Deputy Mayor.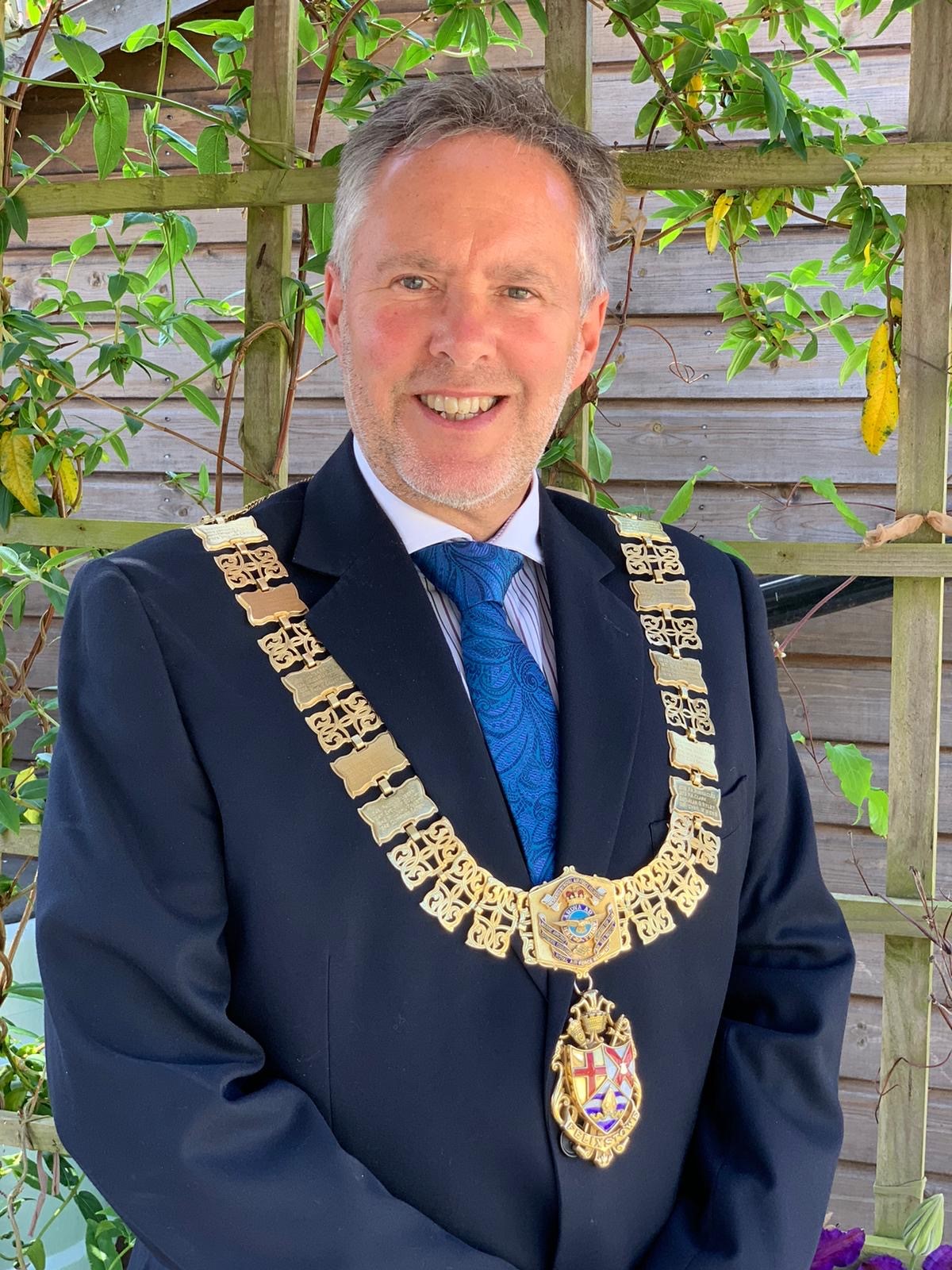 Addressing the Council for the first time as Mayor, Cllr Jepson said: "I am incredibly proud to have become the Mayor of Felixstowe, taking over from Cllr Nick Barber who has done a fantastic job for the second time in three years; I want to thank him for his support and guidance while I was his Deputy. I am also delighted that Cllr Sharon Harkin was elected as Deputy Mayor, Sharon has a real sense of community and will be a great asset to me and the Town Council as we play our part in helping Felixstowe out of the lockdown."
Referring to the coronavirus pandemic and looking forward to the future, the Mayor said: "As a Town Council we need to develop ideas and strategies with our town centre and seafront businesses to help to encourage people to safely visit the town and support our economy. I am confident we will receive great support from the District Council, as well as Visit Felixstowe and the Chamber of Commerce.
"The forthcoming bank holiday weekend will potentially see more people back on the beach than we have witnessed so far this year, Of course people will be expected to behave responsibly as the majority have done respecting the need for social distancing at all times. However, we can expect visitor numbers to steadily increase as the lockdown eases and the weather continues to improve. This is of course welcome but along with that comes new challenges to maintain social distancing, especially when more of our tourism and retail businesses are allowed to reopen.
"To progress this and as Chair of the Town Council's Community Emergency Group I will be meeting with the relevant stakeholders to start this process. We are a can-do Council and we will make sure our community continues to be appropriately supported in the months ahead."
Turning to his charitable aims for the year, Cllr Jepson announced that he had chosen Felixstowe Citizens' Advice and the Felixstowe Carnival Association as the two local charities he would be supporting. The Mayor spoke of their significant contribution to the town and said: "I am aware how hard Graham Page and his team of volunteers at Citizens' Advice have been working to support families and individuals during this current pandemic, I know they have dealt with some fairly harrowing cases and on behalf of Felixstowe I would like to thank them for their dedication.
"I appreciate the Carnival will not be taking place this year but so much hard work and cost had already gone into this year's event, hopefully this will pave the way to support their efforts so far and then make next year's event even better. The Carnival attracts lots of people down to the front and providing it will be safe to do so we can celebrate in style next July!"
With so many important events having to be cancelled, the Mayor asked that focus should be given to helping the retail shops and tourist trade to open safely and encourage people back to Felixstowe.
The Council meeting, which took place online via Zoom with over 30 members of the public watching on, was also treated to a surprise guest. The Mayor of Wesel, Felixstowe's German twin-town, Ulrike Westcamp, joined the meeting to pay tribute to Cllr Nick Barber on the conclusion of his term as Mayor and echoed the cautious optimism about emerging from lockdown. Like Felixstowe, Wesel had to cancel plans for a weekend summer festival but was now looking forward to future opportunities.
In closing his address, Mayor Mark Jepson introduced his wife, Julie, as the Mayoress: "Although initially nervous about taking on the role, Julie really enjoyed being Deputy Mayoress last year and I couldn't wish to have anyone better alongside for the forthcoming year. As I said in my acceptance speech the success of my year will be gauged on the health and well-being of my family, friends and the community as a whole."
The Mayor can be contacted via email to mayor@felixstowe.gov.uk