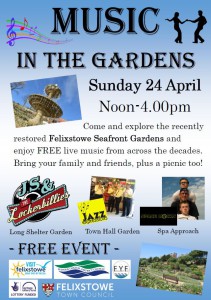 A Musical Celebration
Everyone is invited to come and enjoy a special FREE musical event to celebrate the recently restored Felixstowe Seafront Gardens.
Music in the Gardens is being held on Sunday 24 April 2016, from noon to 4pm.
Three different musical acts will perform in different parts of the eight Grade Il listed gardens, each providing a different era of music to enjoy.
In the fabulous new shelter of the Town Hall Garden, the foot-tapping sounds of 'Jazz Expressions'. The Long Shelter Garden is the venue for the rockabilly 50's/60's tunes of 'J. S. & The Lockerbillies' – don't forget your dancing shoes!
Whilst more up-to-date chart hits will be part of the 'Space Rocks' set on the Spa Approach.
Make sure you also take the time to explore the Seafront Gardens with their colourful and unusual planting, historic features and structures stretching for a kilometre overlook the sea.
The multi-million pound Seafront Gardens Restoration Project was completed in late 2015. The Heritage Lottery Fund awarded the project an HLF Parks for People grant to restore, adapt and enhance the heritage assets of the gardens. This grant was match funded by Suffolk Coastal District Council, which owns the gardens.
Alongside the music, there will also be the annual spectacle of the St. George's Day Parade on the seafront, which starts at 1400 – plus it's a great opportunity to celebrate The Queen's 90th Birthday too! So why not bring a picnic with your best cucumber sandwiches and decorated cupcakes and make a 'right royal day' of it in Felixstowe.
Helen Greengrass, Felixstowe Forward Change Director said: "This is the start of the first full season of the newly restored Seafront Gardens. They are already looking magnificent and as they mature they will become even more impressive. Our free 'Music in the Gardens' event allows everyone to celebrate and be proud of this wonderful attraction of Felixstowe. So come along, explore and enjoy the great live music".
—————————————————
The event organisers would like to thank in particular Felixstowe Town Council and the Felixstowe Youth Forum for their help with the funding of the 'Space Rocks' act.