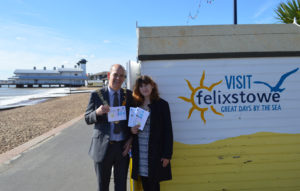 The Mayor of Felixstowe, Cllr Nick Barber is delighted to announce the launch of his Christmas Card Competition 2017.
Speaking about the competition, the Mayor said: "We are launching this competition in order to find a photo that will reflect our great town of Felixstowe on the theme 'Great Days by the Sea'. The winning photograph will then be used as my official Mayor's Christmas Card for 2017 and the Mayoress and I will invite the winner and their guest for dinner at a local restaurant."
People of any age are welcome to enter up to six photographs via email to mayor@felixstowe.gov.uk for consideration by the closing date of 10th November 2017. Judging will commence shortly afterwards.
How to enter:
Submit your photograph to the Mayor of Felixstowe, Cllr Nick Barber by emailing him at mayor@felixstowe.gov.uk giving your full name, age and a contact telephone number.
Key Entry Criteria
The competition is open to UK residents only, including all amateur and professional photographers.
All images submitted must be the work of the individual submitting them and must not have been published elsewhere.
Entrants may submit up to six photographs, taken in Felixstowe, for inclusion in the theme Great Days by the Sea.
The winning photo will be used as the Mayor of Felixstowe's official Christmas Card for 2017. Entrants must have full rights to the supplied image and give permission for the Town Council to use it.
For more information see below:
OFFICIAL RULES / TERMS AND CONDITIONS OF THE PHOTO COMPETITION
The Mayor of Felixstowe Christmas Card Competition 2017 has a number of terms and conditions for entry. These are important to ensure that the photograph you submit is both eligible to win and meets important legal and fair criteria. Note that any deviation from these terms and conditions may regretfully render your submission to the competition void.
All information detailing how to enter this competition forms part of these terms and conditions. It is a condition of entry that all rules are accepted as final and that the competitor agrees to abide by these rules. The decision of the judges is final and no correspondence will be entered into. Submission of an entry will be taken to mean acceptance of these terms and conditions.
All images submitted must be the work of the individual submitting them. It is the responsibility of each entrant to ensure that any images they submit have been taken with the permission of the subject and do not infringe the copyright of any third party or any laws. Entrants must warrant that the photograph they are submitting is their own work and that they own the copyright for it.
Copyright in all images submitted for this competition remains with the respective entrants. However, in consideration of their providing entry to the competition, each entrant grants a worldwide, irrevocable, perpetual licence to the Felixstowe Town Council to feature any or all of the submitted images in any of their publications, their websites and/or in any promotional material connected to this competition.
All entries must be received by the advertised closing date and time.
The Mayor's decision is final.
We regret that we are unable to accept postal entries.
The competition is open to UK residents only, including all amateur and professional photographers. Employees of Felixstowe Town Council, its partners, representatives and immediate families or anyone else involved in the competition are not eligible to enter. Entrants under the age of 12 years need to have parent or guardian consent to enter.
The overall winner and guest will win a meal out with the Mayor & Mayoress of Felixstowe. The Mayor of Felixstowe reserves the right to change the prize at any time.
In the event of any dispute English law applies and the exclusive jurisdiction of the English Courts will prevail.
If you would like to send us feedback or any queries about the competition, please email us at mayor@felixstowe.gov.uk