Felixstowe Town Mayor, Cllr Doreen Savage has announced an exciting gala evening of entertainment in aid of her two charities, Citizens Advice Bureau and Felixstowe Sea Cadets.
The Mayor's Charity Variety Concert will be held on Friday 13th November at 7pm at Felixstowe International College, Garrison Lane, Felixstowe.
There will be a variety of entertainment, music and displays from the students of Felixstowe International College plus 'Entertainment with Words' by Janet Dann and the 'Something Different' Brass Quartet.
Click the poster below to see more: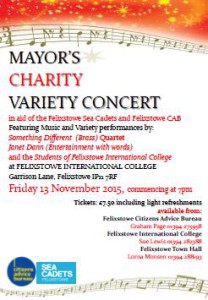 Proceeds from ticket sales will go towards the fundraising total and be split between the two charities at the Civic Awards evening next year.
Tickets are only £7.50 per person, including light refreshments and are available now from the following outlets:
Citizens Advice Bureau
Felixstowe International College
Felixstowe Town Hall
For more information contact the Mayor's Secretary, Lorna Monsen on 01394 282086 or email Lorna.Monsen@felixstowe.gov.uk
Read more about the Mayor's charities here.