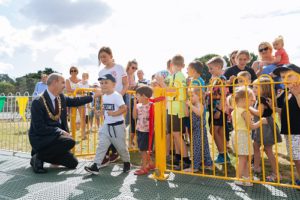 On Wednesday 7th August the Mayor of Felixstowe, Cllr Nick Barber re-opened the Gosford Way play area with the help of local children and families. Following refurbishment of a £265,000 project three play areas in Felixstowe have now been given improved facilities.
The Mayor said: "It was a great event, many hundred's attended. All the three play areas will be great assets to our town and countless of hours of fun for our children."
Cavendish Park has a new Multi-use Games Area and the play equipment at Gosford Way has been replaced with 14 new pieces. The project also includes improvements to Allenby Park play area, which was due to reopen in the week commencing 12 August. This includes replacing and widening of the 5-a-side pitch and additional equipment added to the existing play area.
Cllr Letitia Smith, East Suffolk's Cabinet Member for Communities, Leisure and Tourism, said: "I am delighted that these play areas have been improved for children to enjoy. We had a fantastic turnout at the officially reopening and great feedback from the people who will be using the areas – the children!
Work on the project started in May after Felixstowe Town Council, East Suffolk Council and Suffolk Coastal Norse worked together to identify the three play areas in need of an upgrade as part of on-going investment in the area.