Felixstowe Town Council is pleased to open its doors, for the Heritage Open Day on Sunday 9th September from 10am – 5pm, with an exhibition of photos never displayed before.
The Heritage Open Day weekend will be held in a variety locations throughout the town, details of which buildings are open can be found by clicking here for the Heritage Open Days 2018 Felixstowe programme.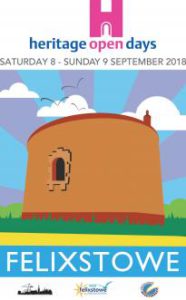 Heritage Open Days – Felixstowe is organised by the Felixstowe Society, in partnership with Visit Felixstowe, Landguard Partnership and Felixstowe Town Council.
The Heritage Information Hub is based at The Hut on the prom. and will be open Saturday and Sunday 9am – 4pm. Here you will find information about what's on during the two days. The Felixstowe Society are also celebrating their 40th birthday – so come and visit their exhibition – for a trip down memory lane. They will also joined by Brian and Charles from the Felixstowe and Offshore Radio group.
Brew for the Few
The Royal Air Force Association (RAFA) will be holding a 'Brew for the Few' tea party fundraising event at the Town Hall, on Sunday from 10am to mark the 60th Anniversary of the RAF being awarded the Freedom of the Town.
RAFA, is a membership organisation and registered charity that provides welfare support to the RAF Family. The RAF Family includes all serving and ex-serving personnel and their dependants. To be eligible for welfare support, for both themselves and those who depend upon them, service personnel need to have served a minimum of one day in the RAF. The Association exists in the recognition that RAF personnel and their immediate families dedicate their lives to their country, and to ensure that such a sacrifice does not result in suffering, poverty or loneliness.
The RAF Association's Brew for the Few is a fundraising initiative where money can be raised by holding a tea party. Guests simply make a donation in return for a cup of tea or slice of cake. Brew for the Few are a great way to help raise funds for the Wings Appeal and awareness of the Association. More information is available here: https://www.rafa.org.uk/get-involved/fundraise-for-us/brew/