Felixstowe Town Council is proud to become the first of 424 parish/town councils in Suffolk to be rated 'Quality Gold'; the highest award level in the Local Councils Award Scheme.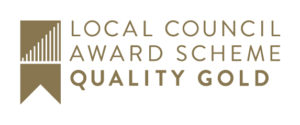 The Town Council received the prestigious award for demonstrating best practice in governance, community engagement and business planning. Notably, the Council is recognised for going beyond its legal obligations and continuously seeking opportunities to improve and develop further.
In achieving the Gold award, Felixstowe joins a select club consisting fewer than 40 from a total of 9,000 town and parish councils in England.
The Mayor of Felixstowe, Cllr Nick Barber said: "It's another great moment for Felixstowe and we are very honoured to receive this award. It recognises the significant progress we have made in the past few years and confirms to us all that the Council operates at the highest standard.
Few councils in the country have achieved this level of award but we always believed we could do it with the quality personnel we are so lucky to have.
It was a genuine team effort so I would like to thank all the staff and Councillors for their work to improve standards across all areas of the Council, with a special mention to both the Town Clerk and Deputy Town Clerk for their dedication in guiding us through the process."
To mark the achievement, the council will be formally presented the Quality Gold Award certificate at its next Council meeting on 8th November.
The Council will continue to review how it may further improve its service to the local community and welcomes comments and suggestions at any time.
The Local Council Award Scheme is a peer-assessed national programme that has been designed to provide the tools and encouragement to those councils at the beginning of their improvement journeys, as well as promoting and recognising councils that are at the cutting edge of the sector. Delivered by the National Association of Local Councils through its county branches, the scheme aims to share best practice, drive up standards and support those who are committed to improving their offer to their communities in order that individual councils and the sector as a whole will reach its full potential.
Full details about the scheme are available on the National Association of Local Councils website here: www.nalc.gov.uk/our-work/improvement-and-development/local-council-award-scheme