With just 100 days to go until the third ever Suffolk Day, the Town Council is delighted to announce that our lovely town of Felixstowe has been chosen to officially launch the event this year.
Held annually on 21 June – the longest day of the year – Suffolk Day is a real celebration of all things Suffolk, with a variety of events being held across the county to show off everything our part of the world has to offer.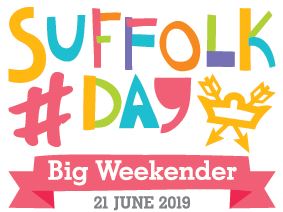 The event begins with BBC Radio Suffolk's Mark Murphy broadcasting his breakfast show live from outside the Town Hall, Undercliff Road West at 7am when he will be welcomed to the town by the Mayor of Felixstowe. Join us at 9.45am when the Mayor, together with fellow dignitaries from across the county, will read the Suffolk Day Proclamation from the Town Hall before raising the Suffolk flag in the Town Hall Gardens.
Later in the day, from 2-4pm, Felixstowe Town Hall will host an afternoon tea party where Town Councillors will serve teas and cakes (free!) to members of the public – please joins us if you can!
As this year's Suffolk Day falls on a Friday, everyone is encouraged to spread their celebrations over the weekend too. Accordingly, Saturday 22 June will see the launch of Felixstowe in Flower 2019 from 10am-12pm at the Triangle, opp. Tesco, Hamilton Road.
If any local businesses, community groups or residents have events planned for that weekend – or would like to get involved – we'd love to hear from you! Please contact the Town Hall on 01394 282086 or email enquiries@felixstowe.gov.uk
For more information, ideas and inspiration visit www.suffolkday.co.uk