Felixstowe Museum is pleased to announce that it is reopening on Sunday 30th May as a COVID secure venue. Furthermore, with funding assistance from local Councillors we have appointed Andy Calver as our Curator and Manager to help progress the museum's ambitious forward plan. We will launch with a new display focussing on Felixstowe railway stations – did you know there was a pier station? There will be model trains running and many new exhibits out on display for the first time. The Museum will also become an activity destination for the Suffolk Children's University.
Andy says 'Looking to continue to move forward, I am proud that the Trustees have put their faith in me. My priority is to help grow our volunteer support to improve the museum's resilience so we can open again and hopefully, open more often in the future. Felixstowe Museum shows what a dedicated team of enthusiastic volunteers can achieve. It is a fantastic community facility featuring fourteen fascinating rooms of fun; from flying boats to funfairs, ferries to freighters, flora, fauna, fossils and fabulous facts – Felixstowe Museum is fantabulous family fun'.
Andy is leading a drive to encourage more people of all ages to engage first-hand with the museum and its collection through volunteering. 'If you fancy forging fresh friendships, finding fulfilment or are fond of facts, why not come and join us as a volunteer. We can learn from each other, you can get work experience to add to your CV, or just get out and have fun – we can't promise fame or fortune, but we can offer you a fresh focus, a first-hand front of house experience and did I mention fantastic fabulous fun!'
If you are interesting in volunteering we would love to hear from you. Please contact Andy on 07813 037022 or email felmuseum@btopenworld.com. The Museum will be holding an open day for potential volunteers on Saturday 8th May from 10:00 -14:00 and also has a virtual museum tour experience available as a taster – come on down! For further information, including opening times, admission prices and our full calendar of events, please visit www.felixstowemuseum.org
Biography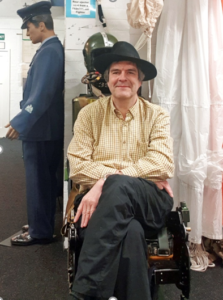 Andy Calver started his museum career in 1980. Leaving school with no idea what he wanted to do, a friend suggested that as he was good at making plastic models he should apply for an assistant conservator position at The British Museum. Moving on he worked at Nottingham Museums, the Museum of London, St Albans Museums and Imperial War Museums before joining the curatorial team at the National Horse Racing Museum in Newmarket. He has now come full circle moving to Felixstowe as manager and curator, and a museum full of fantastic plastic models.
Andy Calver sits in the Martin Baker ejection seat (after checking the rocket motors have been removed)