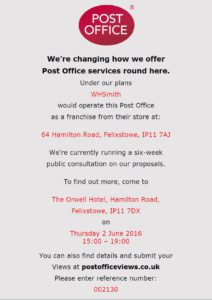 Please note that further to the below (which was originally published on 11 May 2016) the Post Office have advised that they will be holding a public forum at The Orwell Hotel, Hamilton Road, Felixstowe, IP11 7DX on Thursday 2 June 2016 from 15:00 – 19:00.
Felixstowe Crown Post Office® branch
143 Hamilton Road, Felixstowe, IP11 7AA
Proposed move to new premises & branch modernisation
The Post Office are proposing to move Felixstowe Crown Post Office to a new location – WHSmith, 64 Hamilton Road, Felixstowe, IP11 7AJ.  If the move goes ahead the branch will be run by WHSmith High Street Ltd.
This move is part of the announcement the Post Office made in January about their plans to make changes to some of their Crown branches as part of the continuing modernisation of the network. The Post Office state that their priority is to ensure that they provide services that will meet customer needs, both now and into the future, to secure the long-term viability of Post Office services in Felixstowe.
In their consultation letter the Post Office say:
In certain places such as Felixstowe we believe the most effective way to deliver Post Office services is through a carefully selected retail partner.  The vast majority of our branches are already successfully operated in this way and we believe this is the best approach to retaining the branch so it can continue to serve the community.  If the move goes ahead it will be run by WHSmith rather than us directly.
WHSmith is one of the UK's largest booksellers, stationers and newsagents, operating more than 1,200 stores, with an extensive reach and a presence on nearly every significant UK high street.  WHSmith has been successfully operating Post Offices within its stores since 2007 and currently runs over 100 branches.  Throughout this extended period they have satisfied us that they will be able to successfully run the branch in Felixstowe, by showing that they can deliver excellent standards of customer service, with trained staff promoting products and services in a modern environment, over extended opening hours.
What will this mean for customers?
A new open plan branch in a modern retail environment.
The same wide range of products and services.
Longer opening hours.
Improved accessibility, an automatic door would be installed.
What's next? 
We're now starting a period of local public consultation and over the coming weeks we'd like you tell us what you think about the proposal.  Although the decision to change the branch to one that is operated by an agent rather than by us directly is not a matter for public consultation, we welcome any feedback or general comments you may have about the proposed move and would particularly appreciate your views on the following areas:
How easy it is to get to the proposed new location
Are the proposed new premises easy for you to get into and are they easily accessible inside
If there are any local community issues you think we should know about that might be affected by or affect the proposed move
Is there anything you particularly like about the proposed change
Do you have any suggestions that could help make the proposed move better
It's easy to let us have your feedback by completing our convenient online survey via the following link postofficeviews.co.uk and entering the unique code for this branch 00213099.
Posters and leaflets will now be displayed in branch to let customers know about the changes and to ask their views.  Any information we receive will be considered as we finalise our plans for the new branch.  I've enclosed an information sheet that provides more details about the new location.  I've also included information about the Code of Practice over the page and a full copy of the Code will be available in branch.  Other people in your organisation may be interested in this proposal, so please let them know about it.
You can also let us have your comments in the following ways:
Online: postofficeviews.co.uk
Email:   comments@postoffice.co.uk
Mail to: FREEPOST Your Comments
(This is the full address to use. No further address or name details are required)
Telephont: Customer Helpline 03457 22 33 44
Textphone: 03457 22 33 55
Dates for local public consultation:
| | |
| --- | --- |
| Local Public Consultation starts | 11 May 2016 |
| Local Public Consultation ends | 22 June 2016 |
| Proposed month of change | September 2016 |
Post Office Ltd will host a customer forum in the coming weeks, and everyone will be welcome to attend to hear more about the proposed new location.  We're currently finalising details of this event and further information will be provided in branch.
Thank you for considering our proposal.  At the end of the consultation I'll be in touch again to let you know our final plans.
Yours sincerely
Roger Gale
General Manager – Crown and WHSmith Network
Please note that items sent by Freepost take 2 working days to arrive and don't include Saturday or Sunday. Therefore please do allow sufficient time for your comments to arrive before the end of the consultation period, as we are unable to consider feedback received after the deadline.
To get this information in a different format, for example, in larger print, audio or braille please contact the Customer Helpline on
03457 22 33 44 or Textphone 03457 22 33 55.
To read the letter and supporting information please click here