We're getting ready for Felixstowe in Flower, a launch event has been organised for Saturday 17 June (10am – 12pm) at the Triangle, Felixstowe.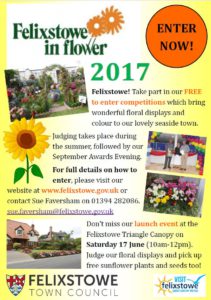 Our competitions are Free to enter for everyone, please see our Felixstowe in Flower webpage here , and scroll to the bottom of the page for competition entry forms.
We encourage local schools, playgroups and youth groups to participate in our competitions and environmental projects.
As always we are looking for sponsors from businesses, who can sponsor a hanging basket or tub, which includes a plaque advertising the name of your business. We also will promote sponsors on our website and can link to your own business website .