In consultation with local stakeholders and to avoid disruption during the summer season, construction of the new Felixstowe beach hut village will now get under way in September.
Having been granted planning permission for a new beach hut village on Felixstowe's South Seafront in October 2021, East Suffolk Council had originally intended to begin construction during the next few weeks. This would have enabled it to be ready ahead of the summer season.
However, with further permissions required before construction could proceed, the project has been delayed by approximately three months. This means that it would not be ready in time for the summer season as hoped and, as a result, we have therefore decided that construction will now get underway in September 2022.
This follows discussions with local businesses, residents and other stakeholders about the likely disruption that construction will cause and a determination not to impact on this year's summer season and everything the South Seafront has to offer.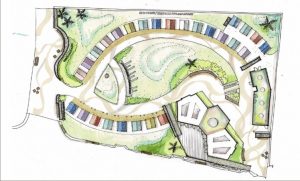 Cllr Craig Rivett, East Suffolk Council's Deputy Leader and cabinet member for Economic Development, said: "Tourism is incredibly important to East Suffolk and once completed, this new beach village will attract visitors from across the country, increasing footfall in the town centre, boosting the local economy and enhancing the lives of local residents. However, we must get the timing exactly right and there would be no benefit in commencing a scheme which would be ready out of season.
"The South Seafront has undergone significant redevelopment in recent years and East Suffolk Council has invested a lot in revitalising the area. We believe it is vital that we continue to build on this investment and create developments that benefit local businesses and people as well as visitors to the area."